Advanced Haemostatic Products - Gelita
To provide the optimal haemostatic solution for ENT, Neurological & Cardiovascular disciplines, as well as many other surgical applications, we have partnered with Gelita Medical, an organisation which produces market-leading, innovative, safe and easy to use haemostats.
To speak to one of our Gelita product specialists, please call 01782 637009 or send a message by clicking here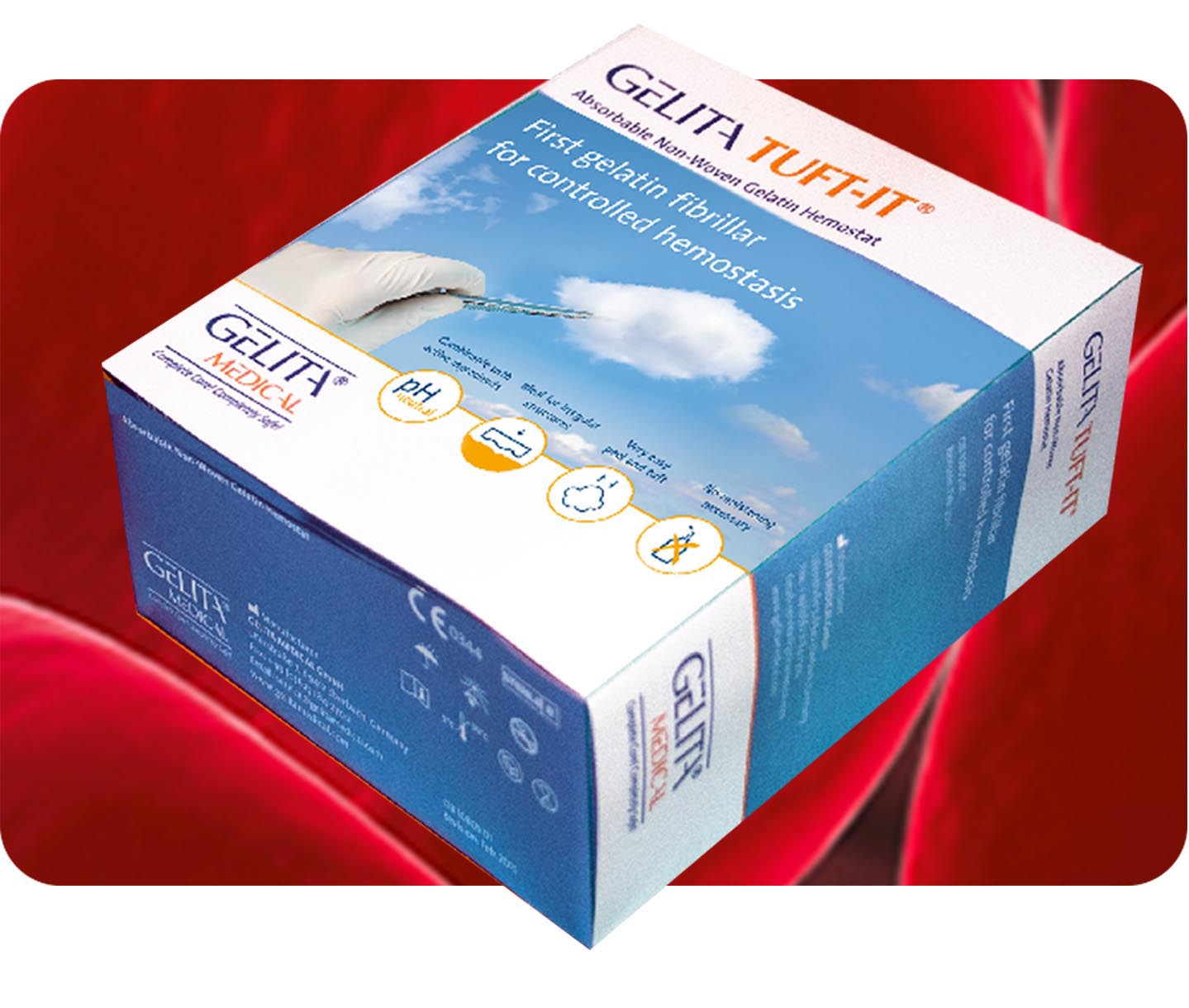 Gelita Tuft-It®
First gelatine fibrillar for controlled haemostasis
GELITA TUFT-IT® is the world's first gelatine-based fibrillar for controlled haemostasis. The patented gelatine fibrillar combines the positive characteristics of a gelatine-based haemostat with the flexible and convenient handling of a non-woven material.
Key Benefits:
Can be tufted / peeled off in layers and applied gradually to achieve optimal results with minimal use.
Ideal for quick control of bleeding in irregularly-shaped structures and areas difficult to access.
No significant swelling to the product, even with high blood and fluid absorption.
Adheres perfectly to bleeding site, but easy to reposition.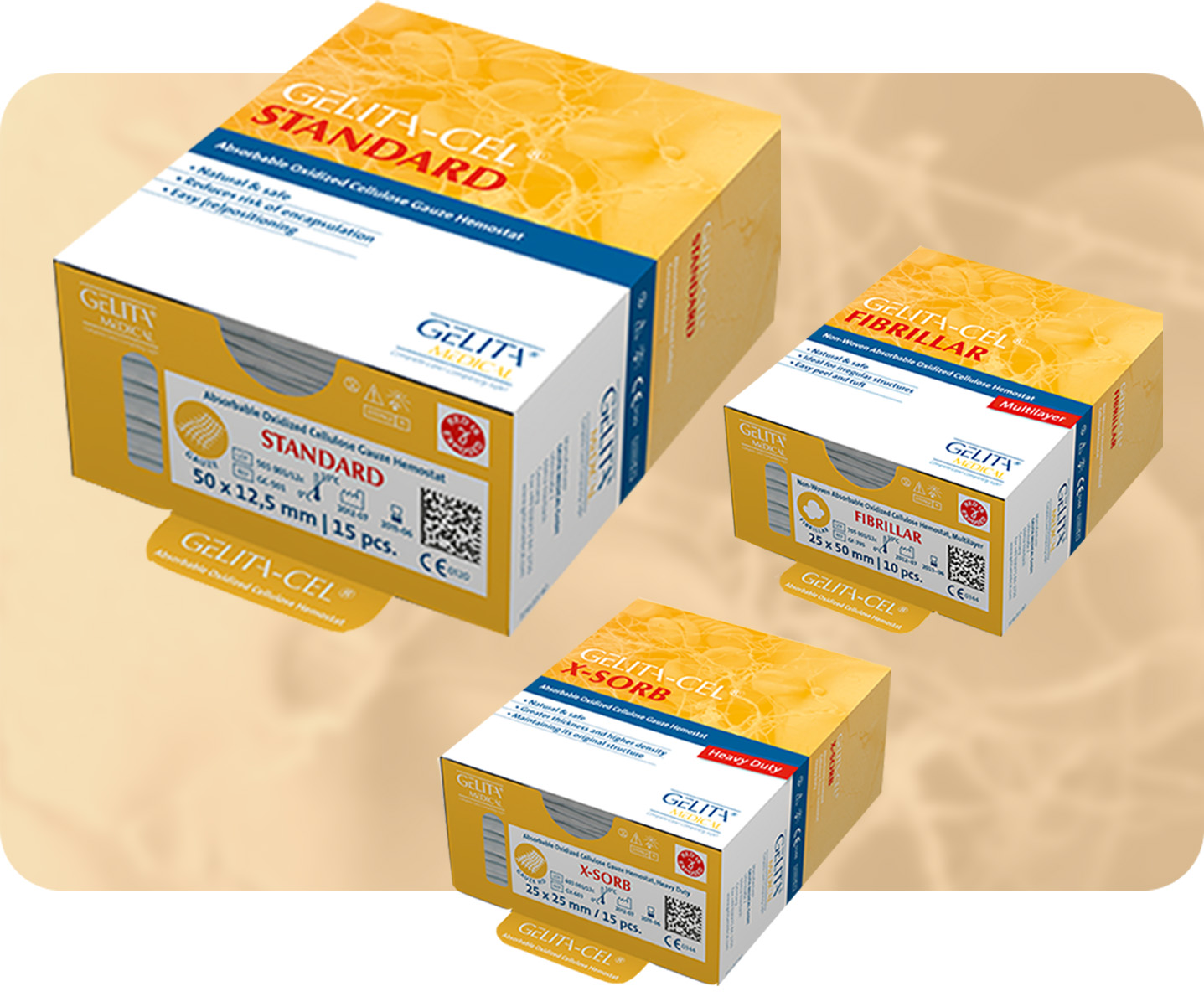 Gelita - Cel®: Standard / Fibrillar / X-Sorb
All GELITA-CEL® products are 100% biodegradable & induce haemostasis by providing a strong matrix for platelet adhesion & aggregation. This accelerates the formation of a platelet plug & acts as a catalyst in forming a fibrin clot. ​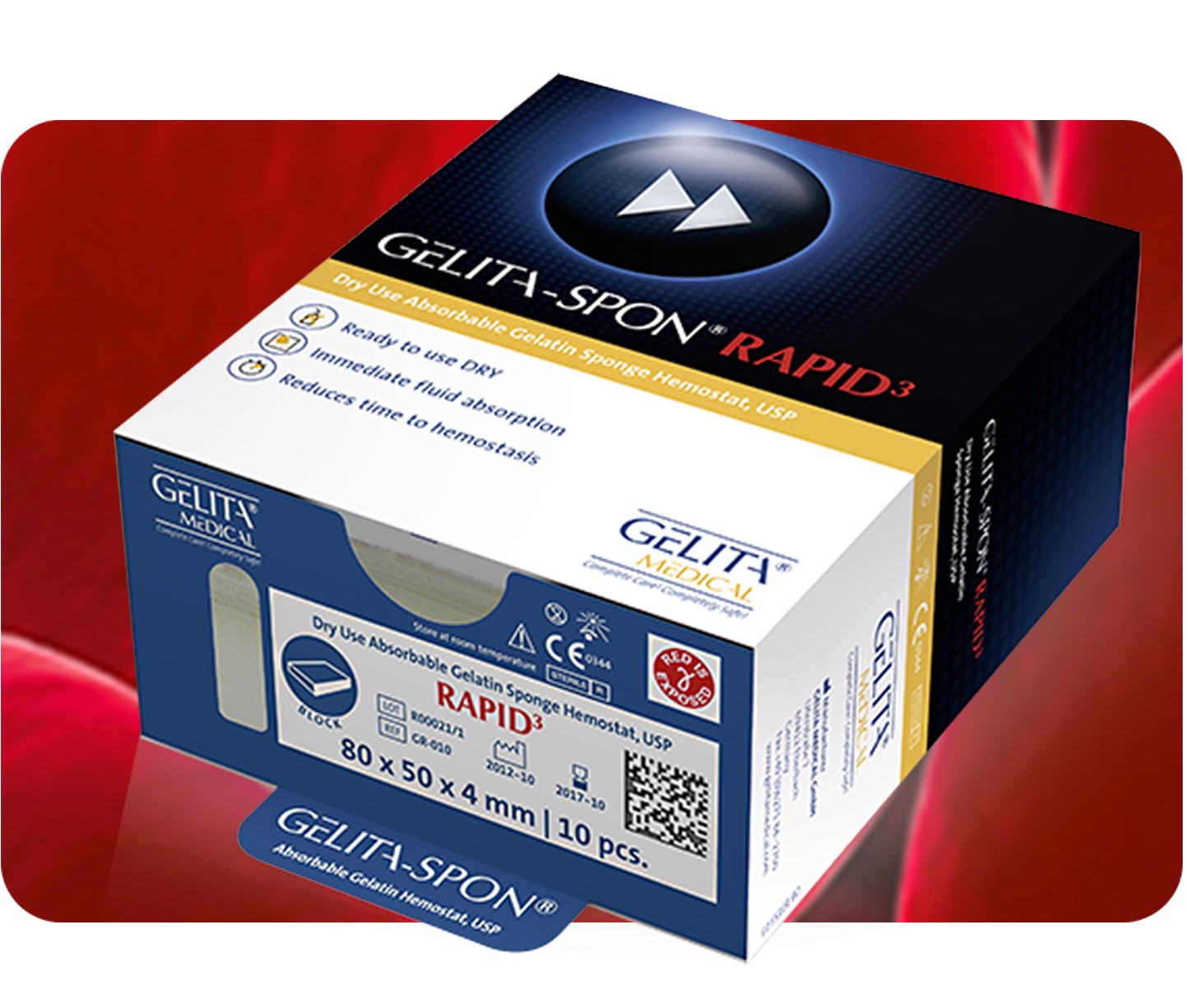 Gelita Spon Rapid3
Fast: Absorbable gelatine sponge haemostat ready to use dry and straight out of the package.
Faster: Immediate fluid absorption; up to 3 times faster than conventional haemostats.
Rapid: Induces haemostasis in less than 1 minute.
Made from 100% pharmaceutical gelatine, Gelita-Spon Rapid3 is natural & safe with a pH-neutral character. Simple to handle and use, it stops bleeding effectively very quickly and offers complete resorption so it can be left in situ providing high patient comfort.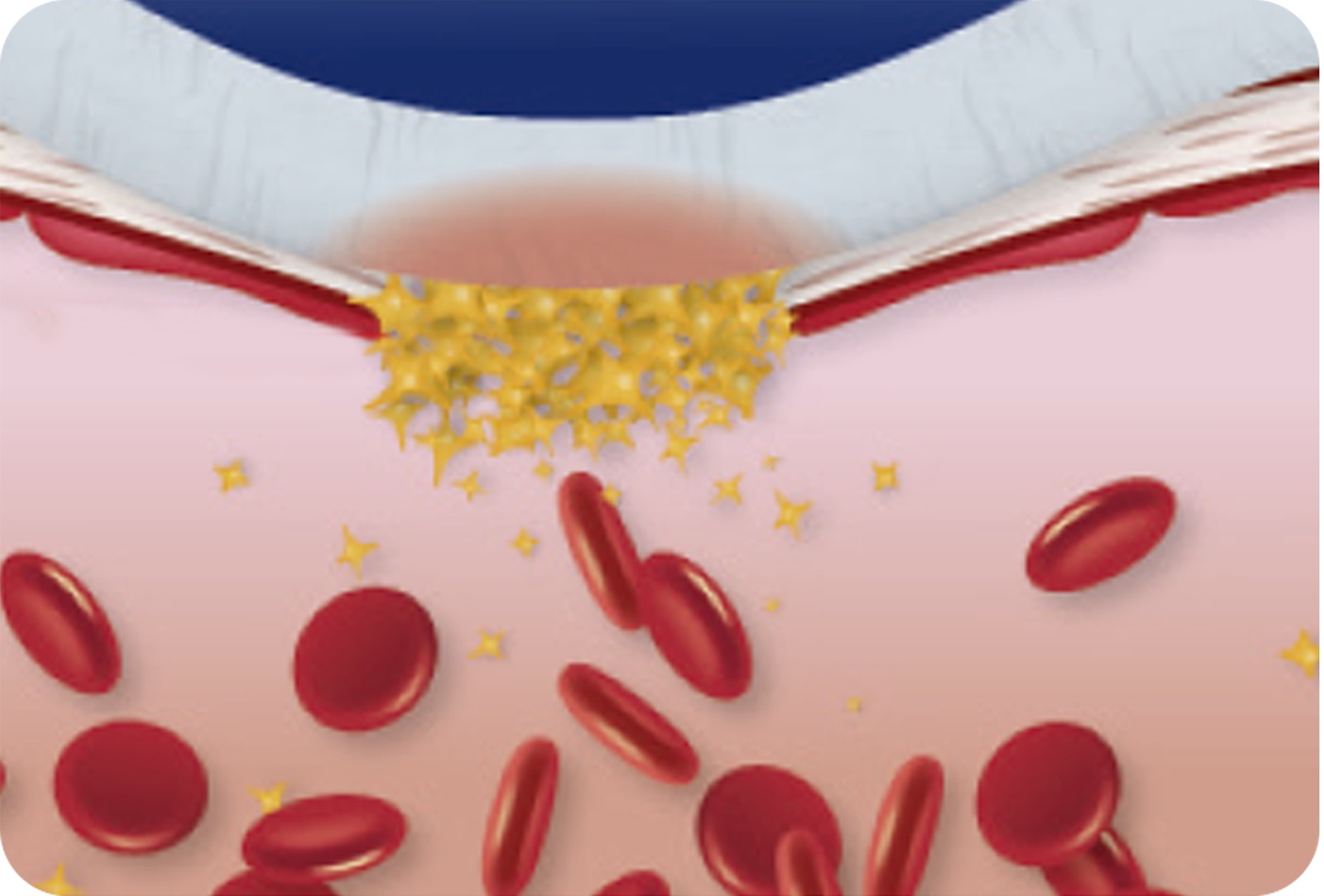 Gelita Spon®
Fully absorbable, biodegradable gelatin haemostats
This range of biodegradable topical haemostats help stop capillary, venous and arteriolar bleeding effectively when conventional methods are ineffective or impractical.
​
All products in the Gelita-Spon® range can be left in place, ensuring patient comfort without any risk of encapsulation; no clinical signs of granuloma formation have been reported. They are all pH-neutral and consequently they work as an ideal carrier for drug therapy.
Gelita-Spon® products induce haemostasis through their intensely porous structure. This allows the sponge formats to absorb more than 40 times their own weight in blood and fluids. As the sponge fills with blood, platelets come into close contact, aggregate and begin to collide with the walls of the pores causing the platelets to become damaged and leading to the release of thrombokinase; thus initiating the clotting cascade. This process leads to the formation of a clot on the wound surface, and platelet aggregation is enhanced through surface contact.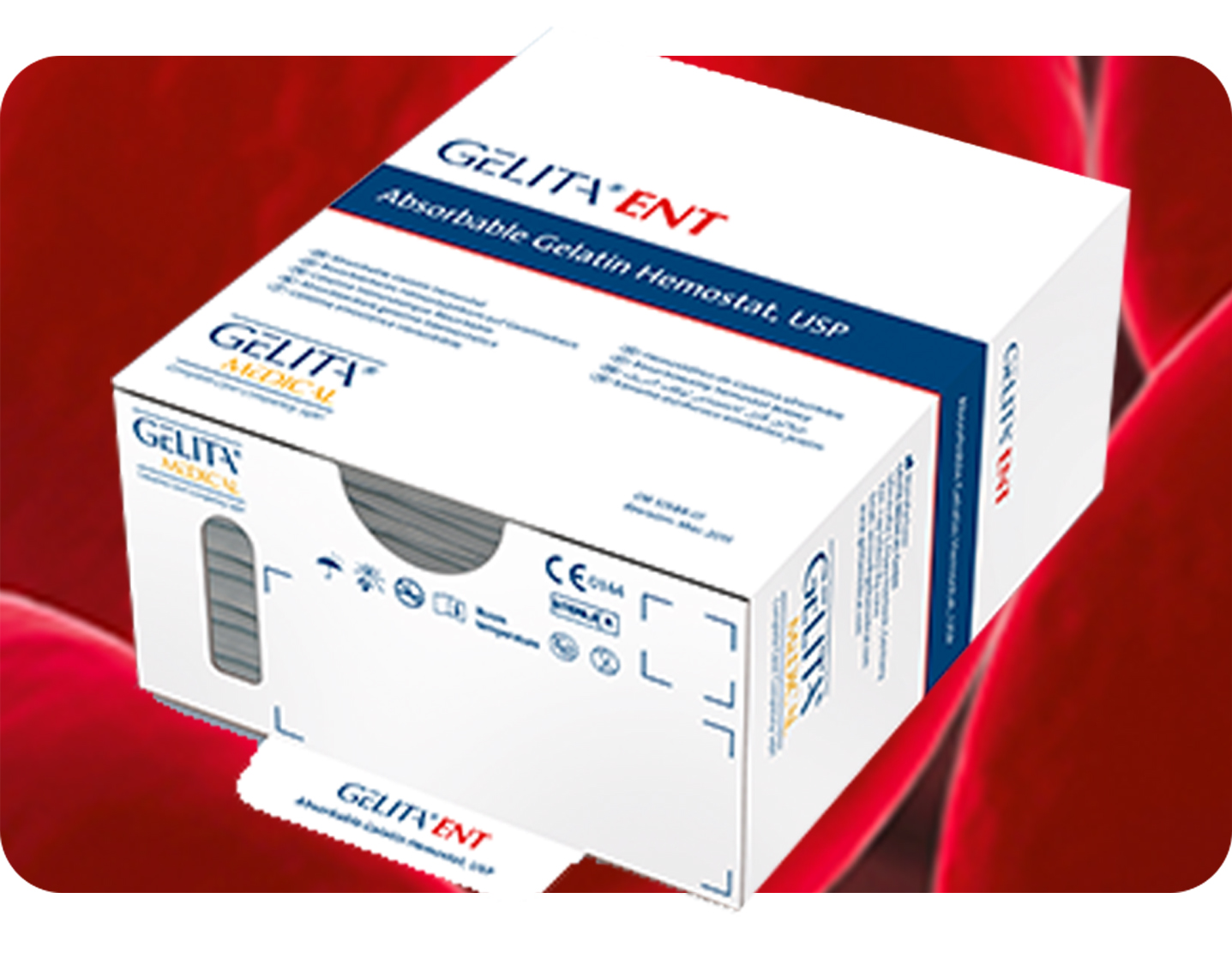 Gelita ENT®
Dedicated to the needs of ENT specialists, this product is available in different formats, sizes and shapes. X-DENSE, X-BLOD and X-PAND come in cubes, blocks and strips with different densities. All are made of pharmaceutical-grade gelatine and fully biodegradable.​
To speak to one of our Gelita product specialists about any of these products, or to place an order, please call 01782 637009. Alternatively, email by clicking here and we will contact you within 24hrs.​