Ultrasonic Aspirators - Söring
To bring this advanced surgical technology to the UK, Delta have partnered with Söring, a German company who have spent 35+ years designing and manufacturing products for ultrasonic neurosurgery and spinal surgery.
Their highly innovative product range has been optimised in co-operation with clinical staff to achieve market leading levels of customer satisfaction and patient wellbeing.
To speak to one of our Söring specialists, please call 01782 637009. Alternatively, send an email by clicking here and we will contact you within 24hrs.
​

Micro Instruments for Neurosurgery
Open surgical and endoscopic ultrasonic resection
Söring's range of ultrasonic micro-instruments are designed to help ensure that neurosurgeons can proceed efficiently and precisely. With an operating frequency of 35 kHz, the product allows effective tumour resection of varying consistency, plus fine tumour preparation in the vicinity of critical structures.

LEVICS Neurosurgical Micro Instrument
Characterised by excellent design, the new ultrasonic micro-instrument been developed for an accurate resection of intracranial and spinal tumours while preserving the surrounding structures as much as possible. Thanks to its integrated aspiration, tumour fragments are immediately removed.
The instrument impresses with its low weight, (reduced by 10% compared to the previous MS-Pen) which is particularly beneficial over long periods of surgery. In addition, the filigree and angled design of the instrument body ensures an optimum view of the surgical field.

The LEVICS Micro instrument features a range of new single use and reusable sonotrodes with different lengths, diameters and ends (standard, beveled & notched) to allow optimised treatment of a range of different lesions. These sterile sonotrodes are CE marked and can be easily mounted and replaced in seconds via the intuitive 'Click and Start' torque wrench.​

Key Benefits
10 % reduced instrument weight* supports long procedures.
Angled instrument body allows optimum view of the surgical field.
Efficient aspiration ensures a continuous workflow.
Simple combination of LEVICS with the multimodal intraoperative neuromonitoring (IONM) of inomed.
​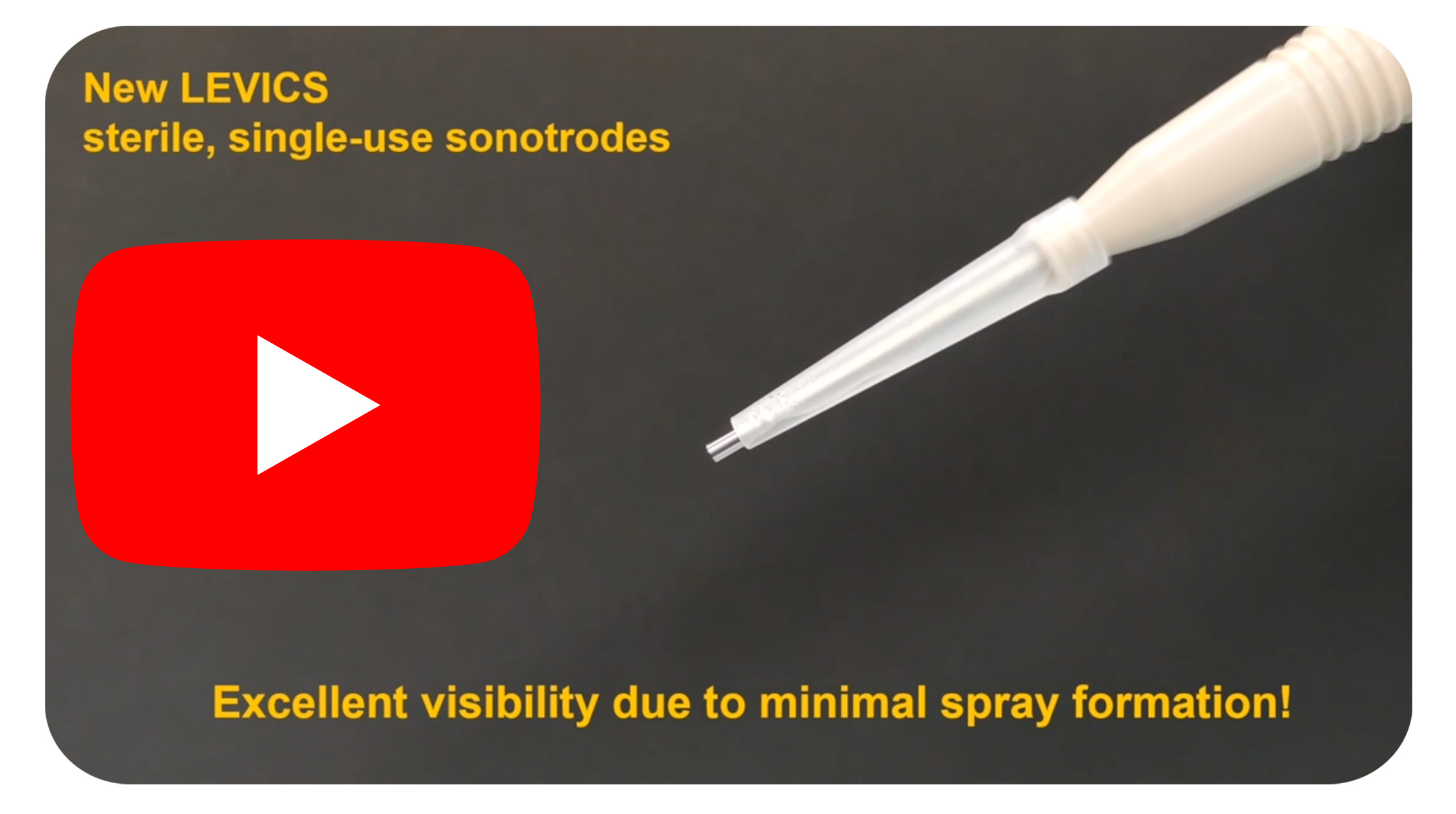 Enhanced Visibility - Minimal Spray
See for yourself in this short video demonstration - every sonotrode in the range now provides optimal visibility of the surgical field.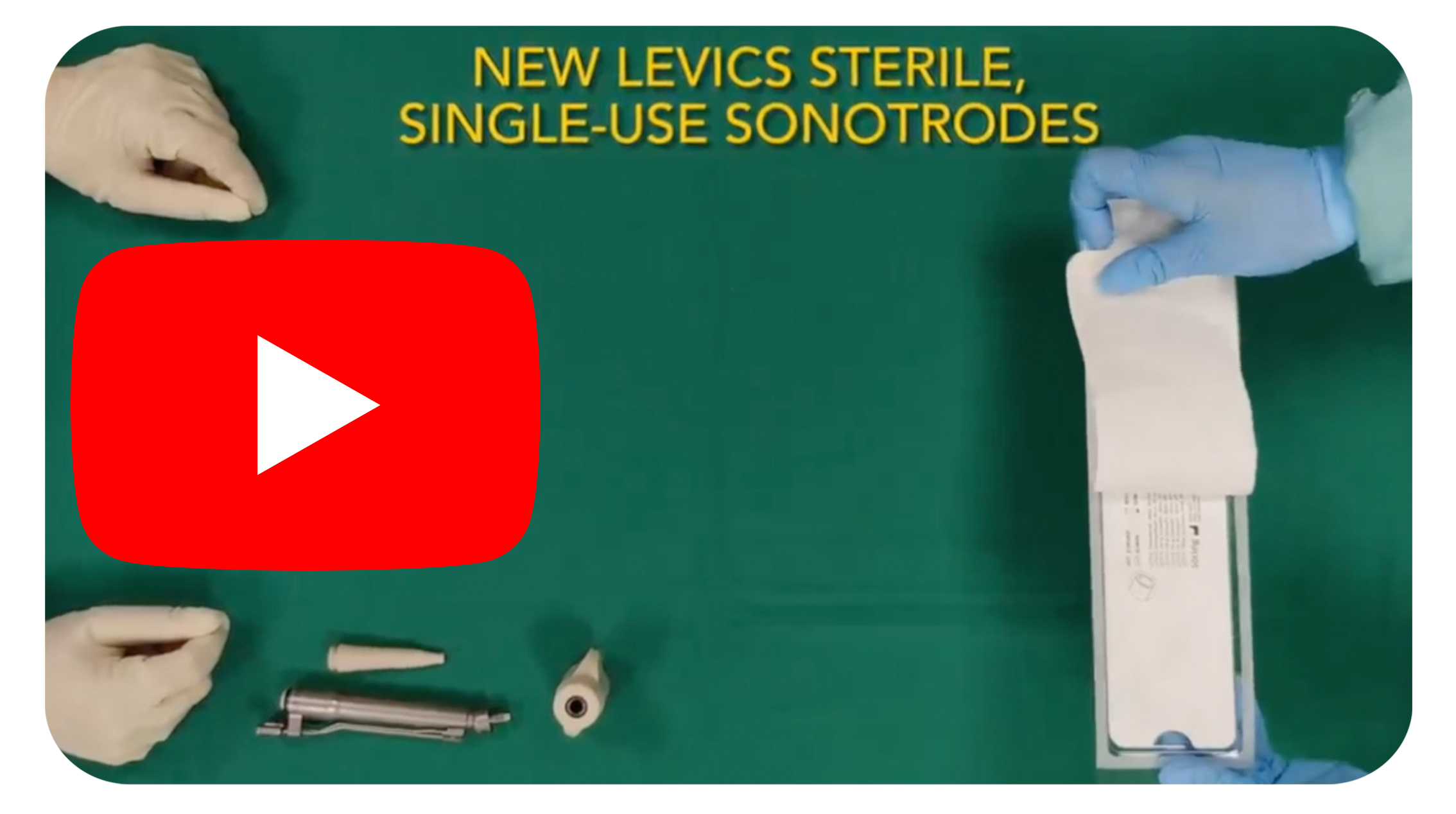 Easy to Access and Double Sterile Packaging
Each sign-use LEVICS sonotrode now comes in new, double sterile packed blister packaging (which includes the flue). This ensures easy, safe & fast assembly in theatre.
Endoscopic Micro instrument ENP​

Unique resection of deep-seated tumours - when removing intra and paraventricular lesions, a minimally invasive approach may be favoured over open surgery. Söring's "Endoscopic Neurosurgical Pen (ENP)" is the world's only ultrasonic aspirator whose exceptionally long sonotrode is guided through the working channel of an endoscope, allowing deep-seated tumours of different consistencies to be fragmented and aspirated simultaneously.
ENP Ultrasonic Aspirator + AESCULAP® MINOP® InVent Neuroendoscopic System

Resection of intraventricular tumours and cysts: advanced neuroendoscopy with ultrasonic aspiration
The ENP ultrasonic aspirator used with the AESCULAP® MINOP® InVent neuroendoscopic system offers an advanced technique for the resection of intraventricular tumours and cysts.
Endoscopic ultrasonic technique
Purely neuroendoscopic approach - resection simply via a burr hole.
Fast resection – tissue is simultaneously fragmented and aspirated.
Clear visibility – enabling continuous irrigation flow.
Safe instrument guidance - depth marking indicates when the sonotrode enters the endoscopic field of view.
Comfortable working - grooved and conically shaped handle improves the instrument guiding.
Working length of 268 mm.
Spine Surgery with Ultrasonic Assisted Bone Instrument
Targeted Bone Resection
The ultrasonic-assisted bone instrument from Söring was developed specifically for the resection of bone and offers numerous advantages in spinal surgery, (decompression procedures etc.).
Non-rotating technology allows a for very precise surgical approach, allowing work close to critical spinal neurovascular structures such as dura mater. Additional pressure is avoided, which is extremely important when working in already tight spaces. Due to the longitudinal movement of the sonotrode tip there is also no risk of "grabbing".
Another great advantage compared to other instruments is that bone can be removed in individual pieces, as it is not ground. Removed material can be used further for fusion operations avoiding the need for artificial bone material or bone graft harvesting.

Key Benefits
| | |
| --- | --- |
| | Various sonotrode geometries. |
| Simple, intuitive assembly. | Fully autoclavable instrument body. |
| | Integrated irrigation system. |
| Clear view of the surgical field thanks to ergonomic design. | |
LEVICS Ultrasonic Aspiration Merged with IONM​
Clinical outcome maximised. Safety optimised. Tumours located close to the corticospinal tract are very challenging to resect. When resecting the maximum extent of the tumour, functional structures need to be kept intact. To address this challenge two technologies were combined:
Higher accuracy and safer resection. The combination of LEVICS with IONM allows the surgeon to stimulate directly at the place of resection. Permanent acoustic feedback informs the surgeon about the distance to the corticospinal tract. This improves the accuracy of mapping and safety during tumour resection.

To speak to one of our Söring product specialists about any of the above systems, or to place an order, please call 01782 637009. Alternatively, email by clicking here and we will contact you within 24hrs.​